Work with us
Do you enjoy working with children?
Do you believe in the importance of transmitting values and educating on environmental awareness?
We are looking for responsible, enthusiastic and dynamic candidates to involve themselves in the NewPa Project.
​
OPEN POSITIONS:
Throughout the year in different types of Immersions
During Summer Camp
​
Minimum requirements:
> Experience with kids
> Advanced English Speaker (C1-C2 Level)
> Willing to learn and be an example of environmental care.
> European passport or working visa holders
> Clear criminal records certificate
​
Possible educational backgrounds:
Teaching
Pedagogy
Psychology
Psychomotricity
Social Work/Education
Environmental Science/Education
​
Suitable for the position?
​
APPLY TO WORK WITH US:
Fill up the form and we'll consider your CV and get back to you.
JOIN TIME4TRAINING:
A new way of learning and teaching!
A training program based on Experiential Learning and Exchange of Good Practices.
This will increase your chances of working with us!
WORK EXPERIENCE:
If you want to get to know the project better, take part in our volunteering program.
Come and enjoy a different way of inspiring youth and connect with nature.
The times are flexible (despite the mentioned dates).
If you have any questions,
Do not hesitate to ask!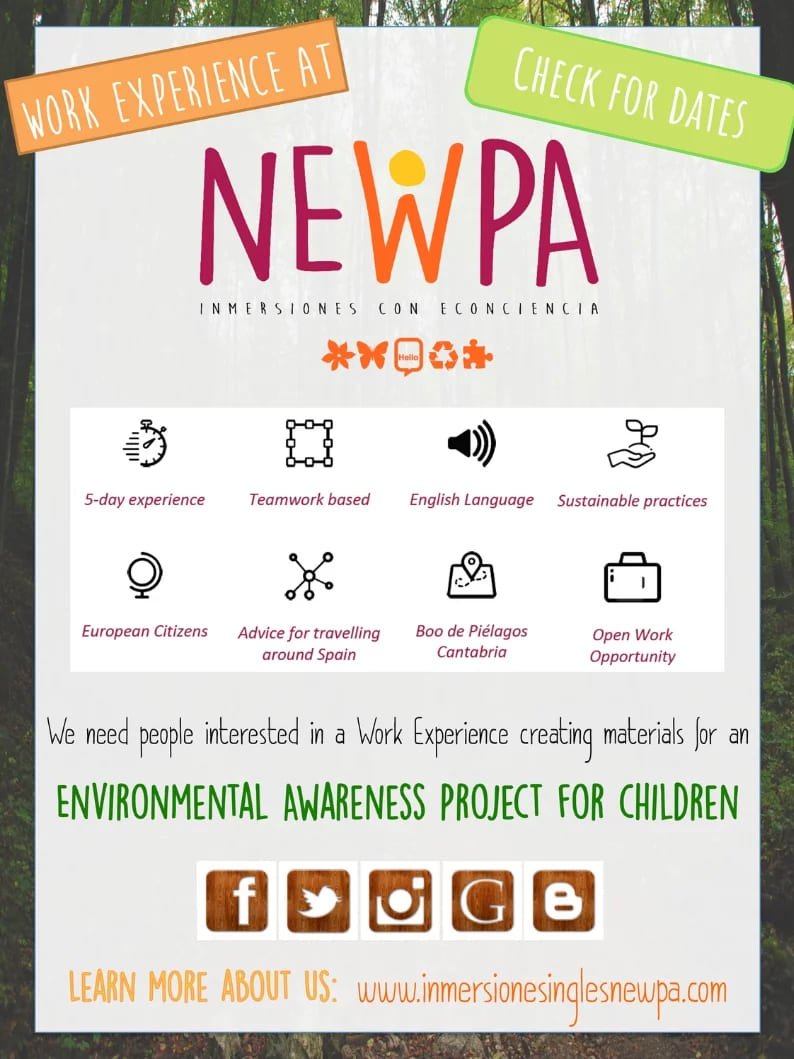 > Download here more information <
Specialists from the world of education
MULTICULTURAL TEAM
Meet our goals
Create a link between the children and the environment, developing their curiosity and their interest in nature.
Raise awareness of the need for responsible consumption.
Promote positive attitudes, respect, social inclusion and discovery of new cultures.
Encourage the personal autonomy of children.
Promote the use of the English language as a form of communication to bridge the gap between different countries.